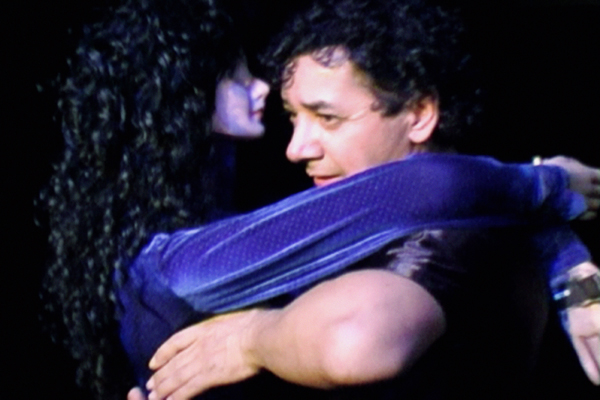 Aurora Reinhart – Julio & Lupita.
Screeningsprogrammet Vittnesmål. 4/9-26/9 2010.
Curatorer: Magdalena Dziurlikowska och Richard Dinter.
Tensta Konsthall presents the video screening program Testimony curated by Magdalena Dziurlikowska and Richard Dinter. It's a 55 minute long program showing works by ten leading video artists.
Now finally I'm going to tell. I'm going to tell it, just as it was. I was there, I was a witness and this is my testimony. But which story should I pick? Suddenly self-confidence crumbles in a myriad of voices, recollections and cultures. What gives me the right to wipe out other peoples stories with my own? Do I want to cover up the multiple truths I believe in with just one? Everybody is a witness to their own life. It's a story that's continually changing. We want to give our testimony.
Blänkare i Svenska Dagbladet.
Tensta Konsthall.

Lars Siltberg – Ambidextrous Performance 2006 2 min
To see all sides, take in everything, one thing and another, and still manage to say something…? Siltberg's film writer uses his right hand, his left hand and both feet. The white text is incomprehensible but more and more resembles his wings.
Richard Dinter – Vitt 2010 6 min
A sudden change in a room and the consequences that this has. Vitt (White) is a film about colour and change. It's about buying new white furniture for the family's sitting room and about white-hot feelings –an unruly and not always flattering testimony.
Joanna Lombard – Details from the Future 2007 4 min
Joanna Lombard's mother and her sister were young when they first worked as extras in the film Z, by Costa-Gavras (1969). Then their lives have moved on. The women didn't know back then, how life would turn out, but now Lombard knows what happened. Her belated fortune telling moulds itself into a testimony about things that still haven't happened. The stories create an interesting cat and mouse game with the coming into being of the ego as a central focus.
Magdalena Dziurlikowska, Niklas Rydén – Self Torture 2009 7 min
I was brought up in catholic faith. The first time I went to confession I didn't have anything to confess, so I lied. This is a story about the self-destructiveness that is present in many of us. A narrative about a divided self, someone who exposes herself, drives herself hard, and at the same time someone who is being exposed and tormented.
Aurora Reinhart – Julio & Lupita 2004 4 min
Julio dances gently with Lupita but harshly bends her hand back. How can she put up with it? Should he be allowed to do it? It's nothing to gossip about. In Latin America there's a tradition that an abandoned husband makes a doll representing his wife and dances a last dance with his creation.
Bjargey Ólafsdóttir – Jean1998 2 min
Jean is a voice with a French accent who tells how he met his dream woman. She was beautiful and happy, but after some time together, she was still just as happy… In Ólafsdóttir's film someone tells about an incident that no one knows about, not even Jean.
Markus Öhrn – utdrag ur Magic Bullet (excerpt from Magic Bullet) 2008 3 min
When the film censor cuts a film clip she even cuts out the people in the film that are reacting to what happened. All these people with their wide-eyed looks have gone from the illusion of film to the truth of the archive and give evidence on our relation to what should be kept secret.
Anneé Olofsson – Evil Eye 2005 10 min
How many times can one die? A woman is lying on a bed, eyes closed and another pair painted on her eyelids. A voice tells how she died. She was beaten to death, stabbed, shot raped, it never ends. It's a story about many of murders but carried by one woman's body.
Jonas Odell – Lies (1 of 3) 2008 4 min
How do you get into a locked and heavily guarded company, completely fool the guards, work two days in a row and remove goods worth thousands of crowns. Part of the answer is amphetamines, and the ability to cheat. But now everything is over, and it begins with a confession.
Fia-Stina Sandlund – Act 1 An Idealistic Attempt 2007 12 min
Two old friends meet, one makes nothing but mistakes, – how can she do right if you compare her with her friend the idealistic terrorist? They begin to plan a campaign against the Mærsk McKinney Møller and Fia-Stina Sandlund asks herself how far she is willing to go in pursuit of her ideals.