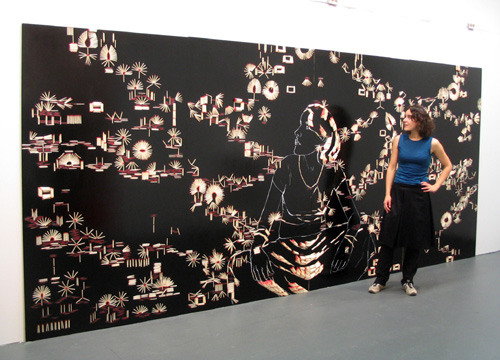 Collage, 500 x 211 cm. 2006.
I have counted all my things, I have 10 244 of them. I have counted from the biggest sofa to the smallest pen. Every match represents one thing. HC Andersen's girl with matches had only a couple of matches with which to warm herself. I have tried to warm myself with things. Sometimes I wish that everything would burn down. At the same time it is a nightmare. The matches in the collage illustrates how things are grouped in my flat. Some of the matches are placed on my drawn portrait, they build me up, I gather them, they attack me. The star forms in the image are meant to be a metaphor for the explosion of multitude of things when I open my drawers. The stars also symbolise the falling star in HC Andersen's tale. When a star falls someone dies. You see yourself in the mirroring black lacquer.
Exhibitions: Kulturhuset i Stockholm, Sollentunas Konstmässa, Eskilstuna konstmuseum, Studio 44, och på Teatergalleriet i Uppsala.
Recension på Konsten.net. Recension i UNT.